Gas management
Add to inquiry box
Production information
Benefit of N2 generator
Why we choose N2 generator
Compared to traditional nitrogen cylinder,the price is much higher, why do we insist on putting effort and cost to design a N2 generator with fine quality? Nitrogen we often used are contained in gas cylinder with high pressure. The cost might be low, but the risk isn't. In most major factories' gas cylinder is considered as dangerous items, needed extra control and preservation. It is not so convenient when it comes to consistently record usage status of gas cylinder, and shipping delayed of applier. The lack of N2 could be a massive problem toward product/report delay, product quality affected, or even damaging valuable equipment. Matter like this would lead to higher cost, and sometimes affects company reputation. When exchanging cylinders, we need staffs to move these bulky cylinders with extra care, preventing damage of properties or personal-safety. Don't forget another problem need to be solved is to build a space for cylinder preservation.
With AMS N2 generator, it can persistently produce high quality nitrogen, no more lack of high-quality nitrogen; every generator contained built-in wheels beneath. The wheels can be fixed and don't need extra auxiliary. This considering design makes it convenient for transportation and increase safety.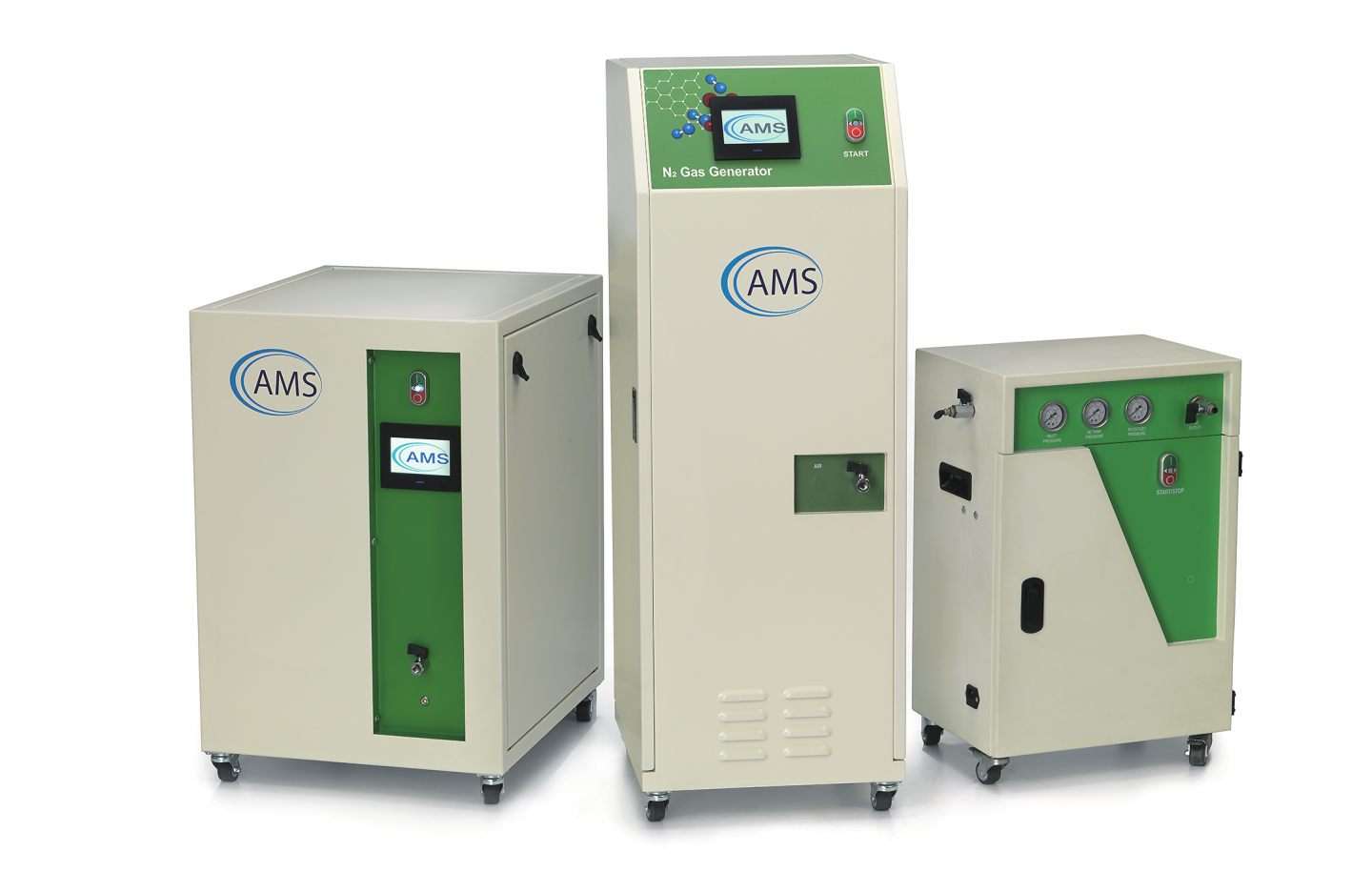 Theory & Technologies Brief
PSA-Pressure Swing Adsorption
PSA is a method applying to divide single gas (N2) from air mixture. It uses the difference of selective and appealing of adsorption material (ex: CMS、Zeolite、 activated carbon) toward air mixture. Usually it generates adsorption under room temperature and high pressure, and adsorption one air component of air mixture, and desorption by applying low pressure, repeat several times, and the particulate air component is divided from air mixture.
CMS-Carbon Molecular Sieves
Nitrogen generate carbon molecular sieves (CMS) is applied to N2 generation from air, functioning at room temperature、low pressure. Comparing to traditional N2 generation skill,low temperature controlled、high pressure, it has many advantages, example: low investment cost、faster N2 generation speed、 N2 cost down. First choice of PSA (Pressure Swing Adsorption) N2 generator for engineering community. The application contribute widely to chemistry industrial、 petrochemical industry、 natural gas industry、electrical-apply industry、food industry、pharmaceutical industry, coal industry、 cable industry、hot metal-application industry、 transportation, etc.
Scroll Air Compressor
With its unique design, scroll air compressor is a energy-saving compressor compared to others. The major benefit of scroll air compressor is almost without abrasion for component, which gives its a longer life span, some even come it fix-free compressor. Scroll air compressor working with slightly vibration which gives a quite working environment. Hence some called it super-quite compressor. This kind of compressor has novel structure、precision,advantages like small volume、 low energy consumption、long life span、continuous and stable supply of air, Stable, clean air source, etc.
Technologies & Advantages
FEATURES & BENEFIT
Purity
with PSA regenerate ability, nitrogen purity would be reliable and stable, won't attenuation after a long time.
Life span
Using PSA combine regeneratable carbon molecular sieves(CMS) allow air desorption and prolong life span.
Multiple application
With single air source, application adapt to LC/MS/MS、ICP、DSC、 TGA,etc.
Simple and effective
Easy to install, plug in power and set desired N2 supply right away. Built-in wheels, make easy transportation, and fixed wheels to ensure safety.
Safe and reliable
No longer worrying potential safety risks coming from Cylinder, and equipment failure caused by lack of nitrogen.
User-friendly function
Built-in LCD-touch panel、Low vibration while N2-prouduction、Low noise and comes with alert function; auxiliary component of pressure sensor and RS485/RS422